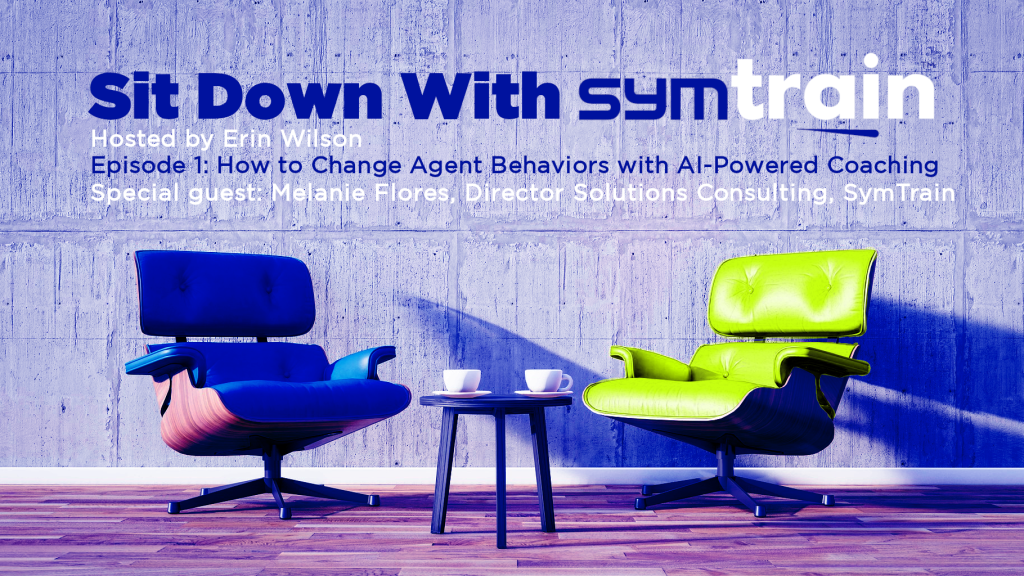 (SDWS) Episode 1: How to Change Agent Behaviors with AI-Powered Coaching
Sit Down With SymTrain, Hosted by: Erin Wilson
Episode 1:
How to Change Agent Behaviors with AI-Powered Coaching
Episode guest: Melanie Flores, Director of Solution's Consulting at SymTrain
In the first of its series, Erin Wilson invites Melanie Flores to "Sit Down with SymTrain." Fresh off her speaking session at the ATD conference in San Diego, CA, Melanie takes a half hour to discuss the strategies her clients are utilizing to actually change the way their agents perform on the contact center floor. Learn how you can save shorten agent time to proficiency by 50% using AI-powered coaching and automated role-play.
About the Guest
I blend an engineer's mind with a teacher's heart and a gardener's hands. My career path has been anything but linear, and every zigzag has blessed her with the chance to build something fun and new from scratch. The experience I've gained along the way leaves me passionate about technology, learning, and the power we have to change people's lives. I live with her husband and two sons in Alpharetta, GA.

Melanie Flores Director of Solutions Consulting, SymTrain
About the Show
Sit Down with SymTrain is a 30-min, interview-style webinar series that brings expert guests from all around the learning and development, contact center, and AI world to share ideas and inform your agent training strategy. Grab a coffee, join us for an insightful half hour, and get ready to challenge the status quo. Each episode will leave you inspired to rethink the way you train and coach. Because, as Erin likes to say: to be better, you must first be different.
About the Host
A charismatic technocrat, Erin pair technical expertise with business acumen to absorb complex concepts and effectively communicate solutions to non-technical audiences – on the fly. As SymTrain's Head of Marketing, Erin challenges customers in the contact center, AI, learning and development industries to creatively apply technology to their most strategic initiatives. Erin resides in Hollywood, FL.